When cold weather comes to Middle Tennessee every winter, members will often see their electric bills increase even though they haven't changed their energy usage habits. 
This is a question that comes up each year. It can be frustrating and confusing as members wonder what might have changed — is there a problem somewhere? Is my heating system working correctly? Have rates gone up? 
The simplest answer is the right answer – winter electric bills are higher because members use more electricity to heat their homes when outside temperatures are lower.  
Heating and cooling account for as much as half of a single-family home's energy use. When temperatures drop, running the heating system for longer periods will result in a higher bill, even if you don't adjust the setting on your thermostat. The greater the difference between the outside temperature and your thermostat setting, the harder your system must work. This additional usage costs more money.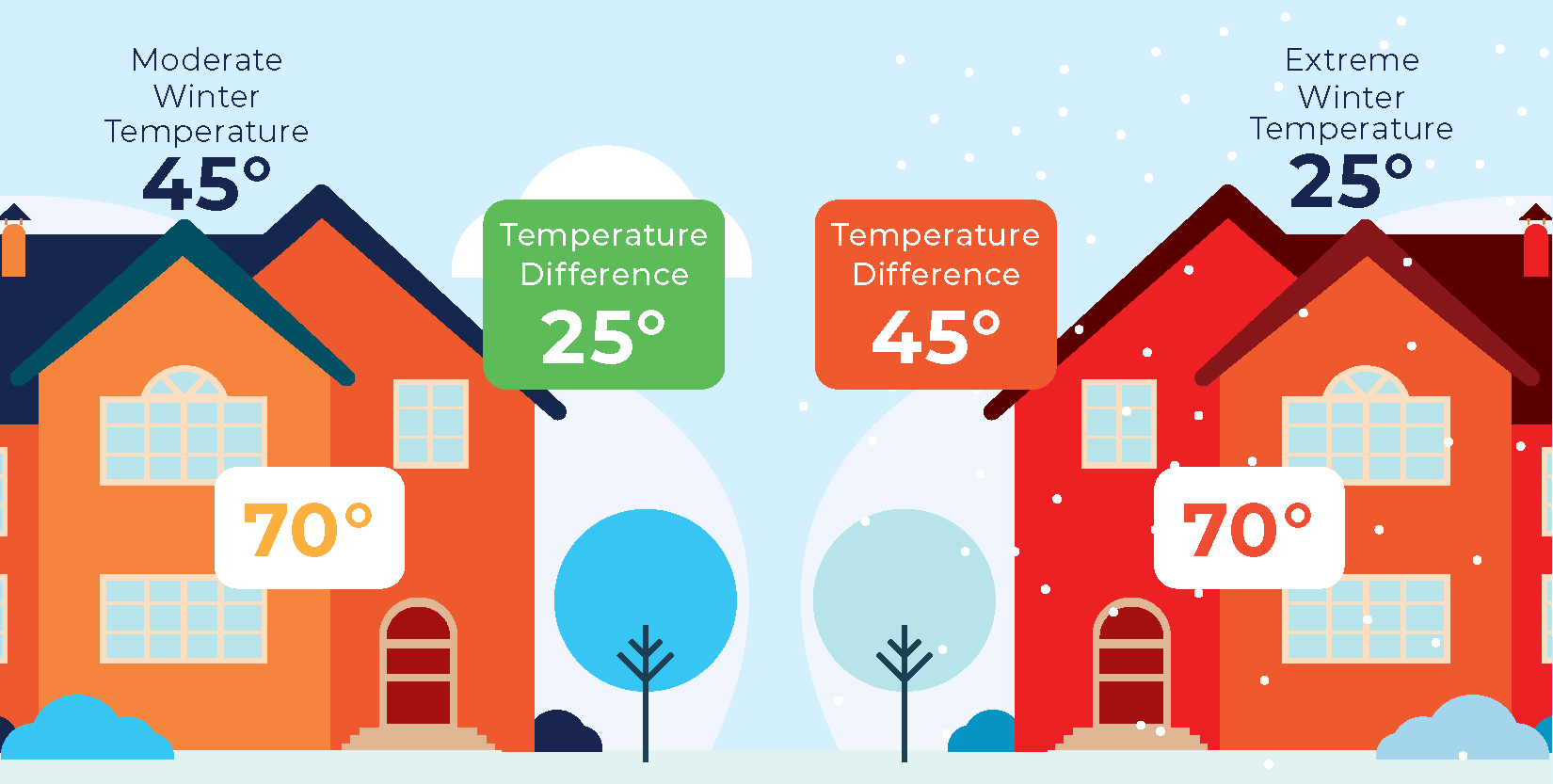 Despite these higher winter electric bills, it's worth remembering Middle Tennessee Electric has rates 25 percent below the national average and lower than many of our neighboring utilities.  As a not-for-profit electric cooperative, we are a distribution utility that operates on only 20 cents of each dollar collected; the rest goes to pay our power bill from TVA, our wholesale power provider.  The only portion of the electric rate that can be adjusted is the commodity-driven fuel cost. In the TVA valley, it was historically low, but it can increase on occasion. When it adjusts, it impacts the price MTE pays for wholesale power. 
For more than 85 years, Middle Tennessee Electric has served our members.  We're your neighbors and we're here to help. We offer numerous ways to help you save on your energy bills – energy audits to pinpoint problem areas, a mobile app to track your energy use, and payment options or budget billing if needed.
Our Member Services Department is here to support our members. Below are answers to some of the most frequently asked questions about dealing with high electric bills.
Frequent High Bill Questions
The greater the temperature difference between the outdoors and your thermostat setting, the harder your HVAC system works to maintain indoor temperatures.. Heating and cooling account for more than half of a member's electric bill on average. Your HVAC unit runs longer during prolonged periods of cold or hot weather to keep up with the temperature.
To monitor your usage during peak winter or summer temperature periods or at any time, you can create an online account at mte.com/myMTEMC or download our app, myMTEMC.
A common misconception during the high-bill season is that rates increase so the cooperative can make money. MTE is a member-owned, not-for-profit electric cooperative and has rates approximately 25% lower than the national average. In fact, 80 cents of every dollar collected by MTE is paid to the Tennessee Valley Authority (TVA) for the power used by our members. The remaining 20 cents is used to operate the cooperative.
Heat pumps are common in homes throughout the MTE service territory and are very efficient the majority of the year. However, during extremely low temperatures, heat pumps switch to auxiliary or emergency heat to help warm the home. When auxiliary or emergency heat is activated, it draws up to three times the amount of electricity. Your heating costs could increase 3% for every degree above 68. 
A malfunctioning HVAC system or water heater, energy-inefficient appliances or poor insulation could lead to higher bills. An increase in remote work and school also raises average daily energy use.
 
Gas furnaces typically have electric-powered blowers to help move the hot air through the ductwork. During periods of cold temperatures, gas furnaces run for long periods of time, meaning those blowers work longer and harder to maintain the desired temperature inside the home. Additionally, many people with gas heat use electric humidifiers during the extreme cold to help compensate for the extremely dry heat gas furnaces supply. This could add to increased energy consumption.
MTE's rates are about 25% below the national average. Our full rate structure can be viewed at mte.com/Rates.
MTE Rates
MTE operates in a not-for-profit capacity and passes through rate increases set forth by our wholesale power supplier, the Tennessee Valley Authority (TVA). TVA's rates follow a seasonal pattern (winter, transition, or summer) and included the fuel cost associated with generating the electricity. Over recent years, fuel costs have decreased to keep the overall rate MTE members pay fairly stable.
MTE works hard to control costs and has not required a rate increase for our operations in over 10 years. Your cooperative will continue to work with TVA in order to ensure that rates remain as low as possible for our members.
Yes, we have several options for our members, including payment arrangements, installments, prepay or traditional billing and fixed or variable budget billing. Members also have the option to change their bill due date to a date that works best with their household budget.
MTE has energy assistance funds available to members who financially qualify through local community help agencies. A list of those agencies can be found at mte.com/CommunityEnergyAssistanceAgencies. 
Our member support team is always available to help members determine the options best for them.
 
MTE is constantly and consistently developing new ways for members to save money, understand their energy usage habits, and create programs to meet our members' needs. Here are some useful site pages to help you learn ways to reduce your monthly bill or its impact on your monthly budget.
Energy Efficiency:
Account Management
mte.com/BillingOptions - Change how your billed to reduce the impact your energy bill has on your monthly budget
More Winter Efficiency Tips