Middle Tennessee Electric participates in an event honoring veterans
Volunteers provide vegetation management services at Stones River National Cemetery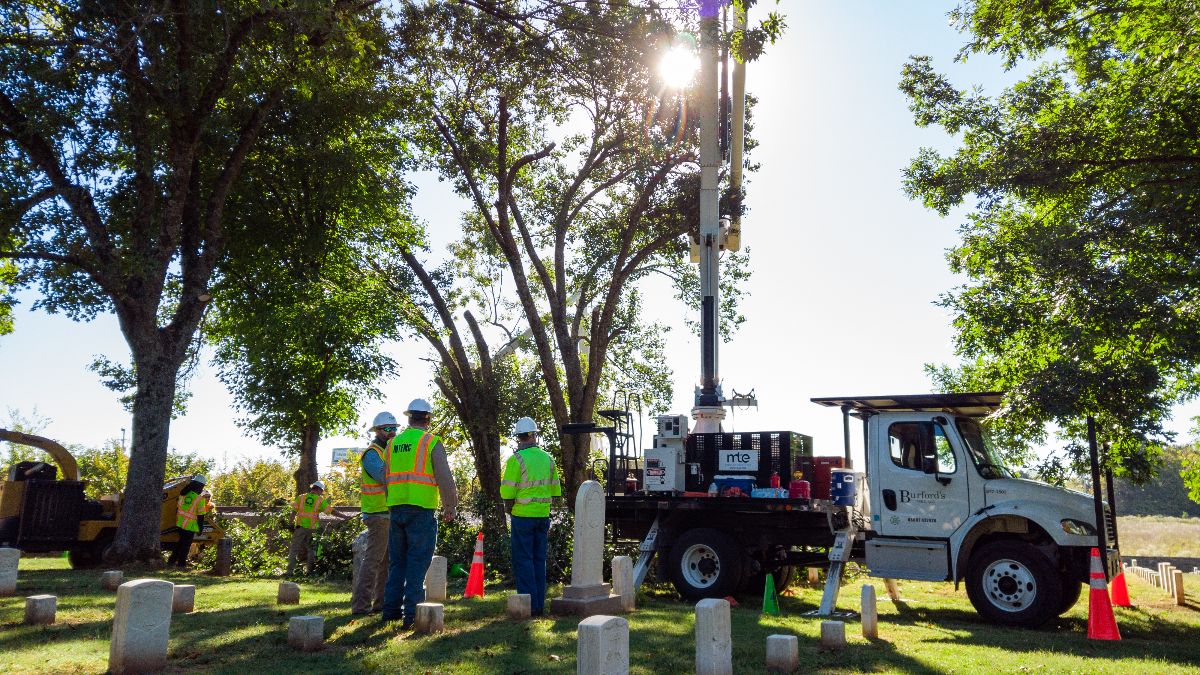 Murfreesboro, Tenn.— Volunteers from Middle Tennessee Electric's vegetation management team and the community worked to trim trees and vegetation at Stones River National Cemetery Wednesday, Sept. 28, as part of the Saluting Branches National Day of Service.   
This year marks the eighth annual Day of Service held nationwide by Saluting Branches, a non-profit organization dedicated to recognizing and honoring veterans. It is the largest volunteer event in the tree care industry.
MTE's vegetation management specialists and contract tree trimmers worked to improve the beauty and safety of the trees by removing any dying or obtrusive branches. Volunteers from the Cannon County High School FFA also worked to clean headstones.
Ethan Weibrecht, MTE vegetation management specialist, organized the local event on behalf of the cooperative and emphasized the organization's appreciation for veterans.
"As individuals and as an organization, we are honored to be able to pay our respects and express our gratitude for local veterans by volunteering our time and service," Weibrecht said. "MTE is thankful for their service and sacrifice."
Though MTE has previously sponsored the Saluting Branches Day of Service at the Nashville National Cemetery, this year marked the first time the event has been held within MTE's service area at Stones River National Cemetery.
Since 2015, volunteers for Saluting Branches across the country have donated over 108,000 hours of tree care services. To learn more about the Saluting Branches organization or get involved, visit salutingbranches.org.
About Middle Tennessee Electric (MTE)
About Middle Tennessee Electric (MTE)
Founded in 1936, MTE is the largest electric cooperative in the Tennessee Valley Authority (TVA) region and the second largest in the United States, serving more than 750,000 Tennesseans via 325,000+ accounts covering nearly 2,200 square miles in 11 Middle Tennessee counties, primarily Rutherford, Cannon, Williamson and Wilson. Municipalities served include Murfreesboro, Franklin, Brentwood, Smyrna, La Vergne, Lebanon and Mt. Juliet. MTE employs 520 people in six local offices and its Murfreesboro headquarters. 
  
MTE's subsidiary, United Communications, is a nationally recognized broadband company with a fiber network spanning more than 3,600 route miles, providing high-speed internet to portions of Williamson, Rutherford, Marshall, Bedford, Franklin, Wilson and Davidson counties.  
Recent MTE News
Press Release
August 28, 2023
Press Release: August 28, 2023
United Communications announces $85M fiber internet investment in Murfreesboro FRANKLIN, Tenn., Aug.